Due to the impact of COVID19 please read the following:
To Whom It May Concern:
We hope everyone has stayed safe and healthy through this unprecedented time. Our office will be reopening on Monday June 15, 2020 following the State of Illinois' Guidelines. We will be seeing clients by appointment only. This will allow us to protect you our valued client as well as our staff. We recommend you evaluate whether an in-office review is truly needed or if it should be held virtually by phone or using Zoom.
If an in-office appointment is necessary, we ask you do not enter the branch location if:
1. You have in the last 14 days had any close contact with anyone who is either confirmed or suspected of being infected with COVID-19, including anyone who was experiencing or displaying any of the known symptoms of COVID-19 (listed below), and
2. You have in the last 14 days traveled by air or on a cruise ship, and
3. Are you currently experiencing or displaying, or have in the last 14 days experienced or displayed, any of the following symptoms:
Fever
Shortness of breath or difficulty breathing
Cough
Chills
Repeated shaking with chills
Muscle pain
Headache
Sore throat
New loss of taste or smell
If you do come into the office for an appointment, face masks will be required. Please do not hesitate to contact with any of your questions or concerns. Thank you for your patience and understanding.
Stay safe and well,
Joe Johnson
A personalized approach
to managing wealth
Managing wealth with an eye toward the future demands vigilance and skill in today's global economy. Over the years, we've worked with clients and their other professional advisors – including attorneys and accountants – to create comprehensive wealth management plans designed to make the best use of their wealth today and help ensure its endurance for future generations. And we'll do the same for you.
We can offer you an array of personalized services, support and guidance that can help make a positive difference in the pursuit of your financial goals.
Get better acquainted with us and how we can help you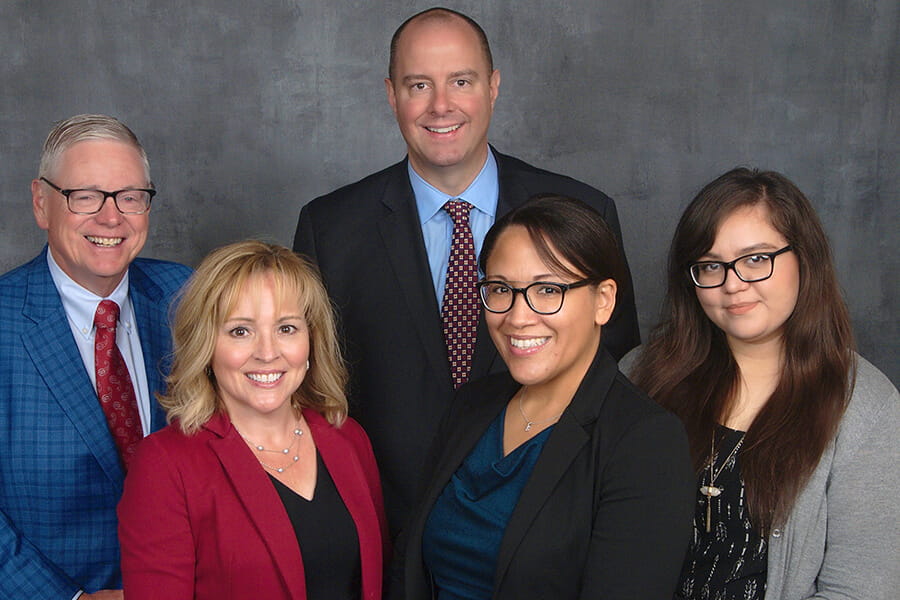 Pictured from left to right:
Joe Johnson, Emily Mentone, Todd Raclaw, Yolanda Ortiz, Raquel Najera
Being here and knowing you enable us to be a trusted partner you can count on. You know the reasons you're working so hard. We want to know them as well – and help you plan for all you want to achieve.
---
If you don't like the road you're walking, start paving another one.